2022 Dates: 7 – 11 February; 20 – 24 June; 23 – 27 July; 17 – 21 September
This five day course is especially suitable for those who:
want to gain a basic understanding of how an earth building provides thermal comfort and energy savings (in any climate)
have a plan to build an earth home (or any small-sized building such as a guest room, meditation/yoga/music room, outdoor kitchen etc),
seek an overall introduction to earth building and discover it by practise
During the course, you will reflect on your building project and make a draft design of your home that will be discussed with the group and the instructor.
The course combines classroom learning including lectures, discussions, case-studies and exercises as well as hands-on sessions. It covers the following topics:
– Thermal mass and insulation
– Passive cooling and heating
– Elements of design (orientation, layout of interior and exterior spaces, natural shading etc)
– Three building techniques (practise): Cob, Wattle and daub and Adobe
– Earth plastering (practise)
You will also learn by observing and commenting on Earth Home buildings, and through several short videos.
Prior experience or a background in construction is NOT required.
General information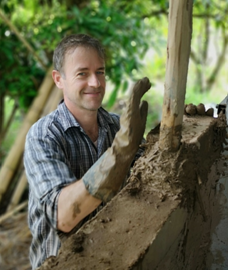 Workshop organized by 'BaanDinDoi Natural Building' and hosted by 'Earth Home'.
Trainer: Alain Madec, natural builder and founder of 'Baan Din Doi'.
Course in English, limited to 6 participants.
Course schedule:  8.30 to 18.00 with several breaks; Lunch break: 12.00 to 14.00
All meals will be vegetarian food with some meat and fish options. Wifi available.
We ask all participants to refrain from any illegal drug use or excessive drinking while staying in the place.
Accomodation
You will stay in a adobe bricks room. The bedroom has its own private toilet and bathroom.
Safety/sanitary measures (covid 19)
We want to provide a safe environment for us and every participant. We organised the workshop and our place to ensure safety:
Classroom sessions in a open room (natural ventilation)
Practise sessions in separate outdoor areas (a few meters distance from each other). Use of individual equipment (tarp, trowel etc)
Available hydroalcoholic gel
Cleaning before, during and after the workshop
Price
9,800 baht/person (about 270 euros, 305 USD), including instruction, accommodation for five nights, all meals during the course. If you wish to stay one night before or after the course, please contact us for details.
Registration for more than one person: 300 bahts discount per person
For more information or registration, contact us at [email protected]