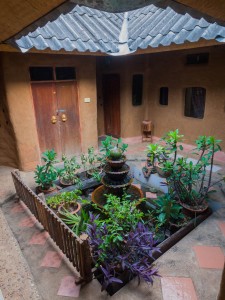 We have nine hand-built adobe houses for guests who wish for a little more privacy and luxury to stay in, and a beautiful big dormitory.
We provide all the bedding you need for a comfortable stay with us. This is an amazing opportunity to feel how beautiful it is to sleep in an earth built home, listening to the sounds of nature as you drift off to sleep.
We provide our guests with as much organic food as possible, a comfortable environment and friendly company. We teach our guests about what we do to live in harmony with nature, from building adobe houses to drinking rainwater. We also really appreciate guests with experience in natural living sharing their skills and knowledge with us!
We try to live by a "Slow Life" model and reduce our environmental footprint as much as possible by growing our own food, recycling, and making organic body care products.
Private House with bathroom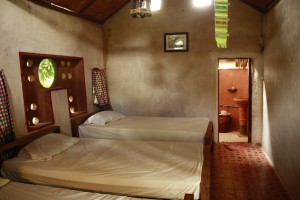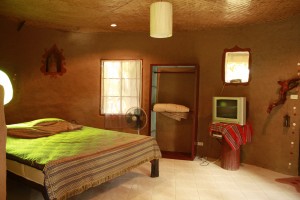 LeeLaWaDee House 2,400THB/night
1 queen bed and 1 twin bed
 with private toilet and bathroom (3 persons)
EaungDin House 1,500/THB/night
1 queen bed with private toilet and bathroom (2 persons)
KeangDin House 3,000THB/night
4  twin beds
 with private toilet and bathroom (4 persons)
Standard Room with bathroom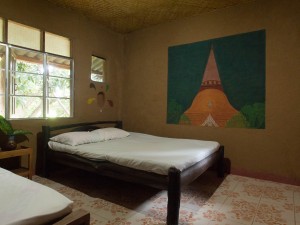 Standard room
(in Kasalong House) — There are 6 bedrooms, each with its own private toilet and bathroom
Room number 3 — 1 queen bed (1-2 persons) 1,300THB/night
Price
Dinner and Breakfast included

Wi-Fi included

A security deposit of 1,000 THB per room is required at check-in in case of breakage of things on the premise and for extra food & beverage consumed at the cafe. Any remaining amount, or the full amount, if applicable, will be returned to you at check-out.
NOTE: We serve only local Thai food here. If you have a special diet or dietary preferences that include dairy and other wheat products, please bring what you need with you. We have a fridge where you can store your food, but there is no kitchen for your use.взлом skype пароляпрограмма взлома паролей вай файскачать программу для взлома wifi на телефон