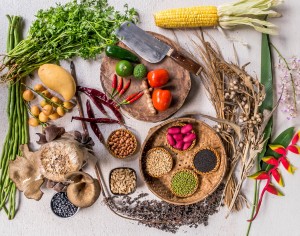 We eat really well at Earth Home. All of our vegetables and herbs, nearly all of our fruit and a lot of our animal proteins are grown organically on the premises. Any time you visit, you'll savor the flavors and health benefits of a super-fresh organic diet.
Learn to cook mouth-watering Thai cuisine
If you want to learn how to cook Thai food, we can arrange a cooking class for you. It's just 1,200 THB for 3 dishes. The standard dishes are Vegetarian Green Curry, Chicken Massaman Curry and a homegrown salad with our special Earth Home salad dressing. You also get to learn to make one dessert. You may request to learn different dishes, but the cost will be higher, especially if special meats and seafood are included in the dishes.
When can I take a cooking class?
If you know that you want to learn to cook, let us know ahead of time so we can arrange everything for you.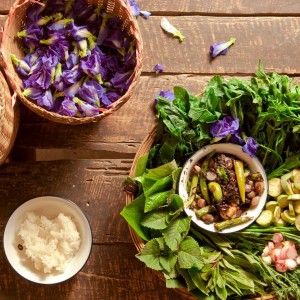 P'Gaet and Khrit, Baan Maejo's resident professional chef, lead formal cooking classes at Earth Home. What they lack in English, they're packed in flavor, as they say. We can also arrange to hire an interpreter for you at your expense, if you prefer.
The first order of business will be, if the menu requires it, a trip to the market. Then, upon getting back home, we'll harvest fruit, vegetables and herbs fresh from the garden. We'll also catch fish if the menu calls for it. You are welcome to participate in all of the above, but not required to. We'll then get started on the "real" cooking. We make everything from scratch here, including curry pastes and dipping sauces. We also use fresh coconut cream and milk whenever available.
If you're worried about finding some of the herbs and vegetables that we use here after you get home, why not take a few seeds with you?
We don't think you'll find many better places to learn Thai Cooking than Earth Home. A night in a lovely adobe cottage within walking distance of a picturesque mountain lake, jungle trail and scenic waterfall. It doesn't get any better than that. Actually, it does — we forgot to mention that we get to eat the food we make after it's finished!